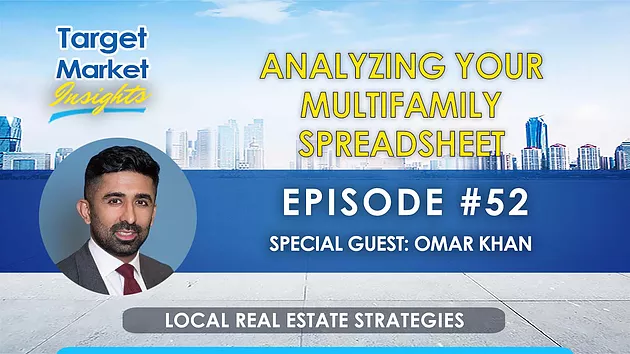 Episode 52: Analyzing Your Multifamily Spreadsheet with Omar Khan
Are your ducks in order or are you a flash in the pan? Stop being an amateur and play like the pro's.
In this podcast Omar Khan speaks 'the truth' on what it takes to make it as a real estate investor. You might not like what he has to say and you most certainly won't find this information in a weekend course or through a guru! But, it's REAL estate investing advice at its finest!
In this episode Omar covers how to take your underwriting to the next level while delivering calculated returns to your investors.
Key Market Insights:
Don't get caught with your hand in the cookie jar. Stay away from cliche.
9/10 investors don't understand the numbers they are underwriting.
Don't be mediocre at your job.
A $90 spreadsheet won't replace a guy who get's paid $150k a year as a developer.
Short Cuts= Bad Habits
Guru's Models are not the same model's they sell you.
Ebb and Flow. Look at monthly financials as well as yearly.
Ask sponsor "What does the monthly cash flow look like?"
Look at rent growth (2-3%),  operating expenses  and the exit cap (100-200 bps higher) in an underwriting deal.
Institutional investors will want to know what the risks are in your deal.
Develop a track record ASAP
Make life easy for other investors. Have a sharp and professional marketing presentation.
Institutional Investing 101. Look professional be able to talk about the market and deal. Get your ducks in a row.
Hope is not a strategy.
Don't have a cheap marketing package
Words you use matter.
Nobody looks at a Lamborghini and say's it's ugly.
Helpful insights: Shake hands and kiss babies. You need to go out and meet people.