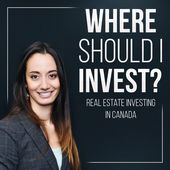 Episode 18: Canadians Investing in the US with Omar Khan
In this episode, Sarah interviews Omar Khan about Canadians Investing in the USA. Today's Guest: Omar is a successful investor with 10+ years of experience in real estate investing, raising capital, buying multifamily investments, and in syndications.
With a history and preference towards Commercial Real Estate Investing, Omar has become an active and successful Canadian investor now living in Texas.
Episode Highlights:
Learn about investing in the USA
Learn about the main differences between Canadians and US real estate investing
What do Canadians need to know before they investor abroad
Understand the factors to consider before investing in American real estate
What are some of the misconceptions we hear about that we can't or shouldn't do as Canadians (such as 1031 exchanges, LLCs, etc)
What are some of the best ways for Canadians to invest their money in the USA
Storage and mobile home park investing
How to get a team on the street while living in another country
Learn about syndications